Following the blow of last year's start with success – in October 2020 I won the 17km race on the railway tracks – partly, because it was actually a run on the railway sleepers – sometimes managed to hit them. Well, as in September I was second in Łagiewniki (second, second, second – echo as in the head of Adaś Miałczyński), then in October I won (first OPEN cat.) at the 1st Rawa Mazowiecka Railway Track Run 🙂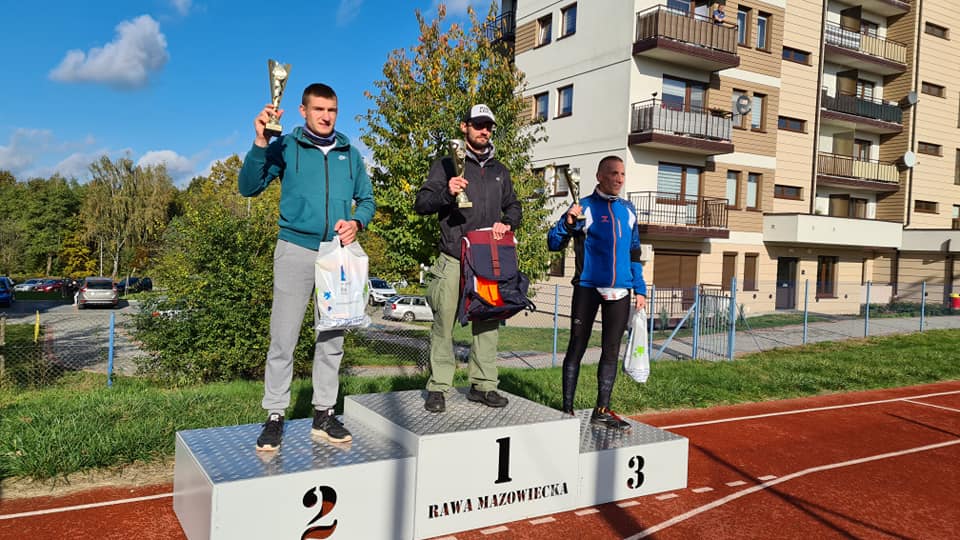 Again, Kipchoge and Prefontaine's cousins did not come, but as I looked at the starting list and the times of people who declared a better result than me, I moved further into the places in the start. I gave a declaration of 1:30 for a half marathon (I actually had a minute better time, but a year earlier), and I had to chase with a few riders with results 1:17-1:25 on 21km on asphalt (and probably someone had about 35min/10km). I assumed that I am chasing for 3-4 place, and if not, maybe the age category although they will give (after all, there are 3 places on the podium) 🙂 Well, but it's a route along/along/next to narrow gauge tracks, not asphalt. I would say it's such a fast run on the mountains, but without mountains, with small and large stones, obstacles, branches, railway sleepers.
I started probably as the eighth rider (there were waves of 2 people), I barely made it to my start, because I left the jacket in the car. It so shattered me that I fired the first kilometer harder. I knew that about 30 seconds of loss I got to the third and fourth player, so it probably came out 3:20-3:30 by a piece, and on such a surface (the sleepers were slippery, wet grass) it was a medium tactical solution. However, I did not fingy (this time). I chased a few people, caught up with the forefront and held on to their pace for some time – I had to come to myself after the chase!
Then we ran in four people, sometimes close, sometimes we overtook each other, one flashed on wet grass – everywhere next to the tracks, stones – well cheerfully. And two dogs that ran at us ate, rather certain purpose. Someone came alone to bring the dogs out in the field, next to the forest, and there dozens of runners fly on the tracks. This narrow-gauge rides and so uncommon rides, and in Covid's time it's almost not at all (she didn't even go to take us back and we came back on a bus set up by the organizer – a pity, in total, I signed up for this queue mainly :D). You run 15-16km/h (4:00) on the tracks, and here the dogs… We shouted menacingly at them, someone bent down (like) a stone, the dogs fled to their man.
Somewhere on the fifth kilometer of the 17-kilometer, one-way route, I found that I was chasing a little team and fired a sprint for a while, I started to move away from them … It's the first time I've run a run in so long. An amazing feeling, although probably some believe only in the Olympicgames 😉 After 15 minutes I felt like I was winning. Joy. And I think I came to points too early. The volunteers wanted to stop me at intersections instead of stopping the TIRa, well, I practice in Łódź and the surrounding area – I know what it's like to challenge the truck to the forefront (but of course stop at the traffic lights, there's nothing to risk!). I said I don't know what I'm doing here, i guess the others got lost on the 😉 I did not waste time on the point with water / iso, after that – water in disposable plastic cups avoid like fire – harm to our world, animals.
I ran as hard as possible, but since no one was seen behind me, I was not in a hurry … I ate an apple from the orchard (lay, delicious, with pesticides) and I knew that only a few kilometers away, so I ran them as best as possible, but I left a reserve … finally I could make a wrong route haahaa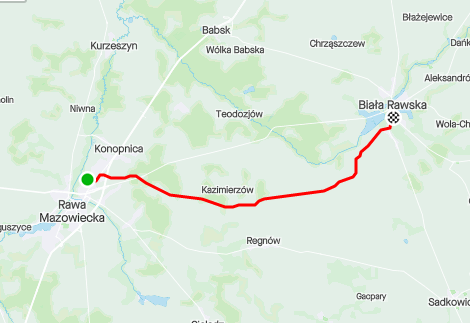 It came out 1:16:51 – that is, the first position and the record of the route – after all, this is the first edition 😉 Lucky, but you know that prizes count! In addition to small things and a super cup – I got a big training bag.
Probably if I put on more clothes (it was cool and wet), or safer shoes, drank water during the run and took something to eat with me, I would not chase at such a speed. However, I sometimes train at all without food and water, or sometimes I eat like a fool (I loved taking sandwiches for a long time with a backpack. I'm looking forward to these activities. Now you'll probably bet on sushi and smoked tofu sandwiches and pickled cucumber: if you want good tofu, you'll find the link below).
Thanks for your attention.
I will be grateful for the comments, likes, spreads and goodie
s.- Romek
PS R. Such an interesting fact: as a kid I lived in the vicinity of the tracks, and currently, from 2019, my most common routes run next to / along the tracks, in addition grandfather worked on the railways (IT'S DEFINITELY CHEERING! : )
PPS R. "I still believe in a narrow track" (and the drawing of the train) – such a sticker (vlepka) I saw many years ago in Warsaw. Literal?
Links: